Case Counts/Testing in Texas – Wednesday, April 7th (1:40 AM data)
Total Tests Performed – 26,273,311
Confirmed Cases – 2,412,115 (3,285 new cases)
Active Cases – 68,974
Hospitalizations – 2,886 (12,431 available beds, 999 available ICU beds)
Fatalities – 47,921 (99 new deaths)
Recovered Cases – 2,662,211
Vaccine Data – Wednesday, April 7th (3:00 PM data)
Doses Shipped by state – 14,526,905
People with one dose received – 8,434,288
People fully vaccinated – 4,906,823
Total doses administered – 12,981,590
Inside the Numbers
Molecular positivity rate as of Wednesday, April 7th was 5.73%.  One month ago, there were 1,800 new cases reported, one week ago there were 2,400 new cases reported, compared to the 3,285 reported today. The 2,886 COVID patients in hospitals now are 211 fewer than one week ago, and COVID patients make up 4.4% of total hospital beds in the state.
Over the last week, an average of 265,910 doses have been administered each day in the state. As of April 6th, 16.9% of Texans have been fully vaccinated.
Senate Passes Their Version of the Budget Minus Federal Relief Offerings
The Texas Senate may have successfully passed their version of the state budget, but, this is just the start as lawmakers must still decide what to do with billions in federal COVID-19 relief money.
 As of now, writers have entirely left out some $38.6 billion in federal COVID-19 relief from the budget. The Senate says until they can sort through the details and the politics attached to the money, it will stay out of the budget. The House hasn't finished its version yet, and the two chambers will have to be reconciled later this session.
According to the state comptroller's office, the money, coming from the most recent and largest relief package, is intended for the state itself. More than $10 billion, however, is reserved specifically for cities and counties. Another $12.4 billion is designated for the state's public schools (along with $6.8 billion from earlier COVID-19 relief). Health and human services programs in Texas should get $4.4 billion, and rental assistance programs are in line for $1.5 billion.
Lawmakers have legitimate and precedented fears of a "budget cliff" in Texas' future if they aren't careful with this one-time budget supplement. The effect of having this money for a couple of years and then suddenly not having it could be catastrophic. This apprehension finds its roots in the federal relief money granted in 2009 due to the 2008 global financial crisis. In 2011, the money had run out before the state's economy could fully recover and the Congress was forced to make deep cuts in the state budget including a $5+ billion decrease in public education.
Lt. Gov. Dan Patrick Leads Fiery Press Conference on Voting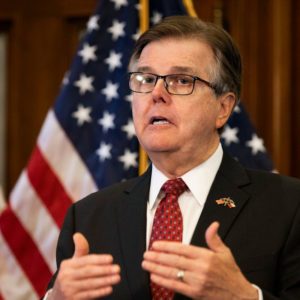 In a contentious press conference led by Dan Patrick, the Lt. Governor accused Democrats' fight against certain election bills in the Texas Legislature as "race-baiting" and said elected officials like Harris County Judge Lina Hidalgo and Houston Mayor Sylvester Turner are lying about what the legislation would do.
During the press conference, Patrick said that "Senate Bill 7 is not voter suppression" but, "voter security." Throughout the 30 minute conference he recurrently criticized the media, Harris County officials, American Airlines, and Democrats including Beto O'Rourke, calling them a "nest of liars" for saying the legislation intends to disenfranchise people of color.
Patrick aimed his criticism at Harris County officials Hidalgo and Turner who have labeled the legislation as a form of voter suppression. "They're lying to you," Patrick said.
The debate on the Texas voting bill has intensified since last week as major Texas-based businesses including American Airlines, Southwest and Dell have all released statements showing their concern regarding the bill. That resistance comes as businesses and sports leagues including Major League Baseball opposed voting legislation in Georgia pushed by Republicans that similarly has been called out as attempts to suppress the vote, particularly in minority communities that vote overwhelmingly Democratic.
Democrat Mike Collier to Challenge Lt. Governor Dan Patrick in 2022
Mike Collier has announced that he is launching an exploratory committee in order to challenge Lt. Governor Dan Patrick, whom he had previously run against during the 2018 midterms, losing by 5 points. Collier has expressed his intent to "hold Dan Patrick accountable" for his perceived failures during the COVID-19 pandemic and the Texas winter storm. Collier has implied that the context of the time will work in his favor, and that President Joe Biden will be a benefit during the election. Collier's campaign is expected to include former Biden campaign members and former Texas Democratic Party executive Crystal Perkins. He is expected to begin his campaign by way of a tour of West Texas.
Governor Greg Abbott Bans State Agencies, State-funded Organizations from Requiring Proof of COVID-19 Vaccinations
Amidst a flurry of vaccinations across the world, many have sought "vaccine passports," in an attempt to prove one's vaccination status. However, many conservative elected officials and interest groups  have pushed back against these attempts, claiming that the creation of such "passports" would violate individual freedoms and privacy. As a result, Governor Greg Abbott announced Tuesday that he too would ban state agencies and organizations that receive public funding from requiring proof of a COVID-19 vaccine. Some argue that this position remains similar to Abbott's overall opinion on the COVID-19 vaccination, which he emphasizes always voluntary. However, businesses can require employees to get a vaccine, despite Abbott's opposition to proof of vaccinations.
Allegations of Abuse of Migrant Children
The Freeman Coliseum in San Antonio is currently housing more than 1,300 teens who recently crossed into the US without a parent or guardian.  This week, the Texas Department of Family and Protective Services and the Health and Human Services Commission began receiving reports of sexual assault and abuse.  No details were provided on those who alleged the assault, or who were the subject of the allegations, but Governor Abbott has called on the DPS to investigate the claims, and is calling on the federal government to close the facility pending the investigation.
Abbott and other state officials continue to be highly critical of the Biden administration and their handling of the influx of migrants being apprehended at the US/Mexico border.  As of Tuesday, Border Patrol reported having more than 4,200 unaccompanied children in custody, and another 16,000 under care in federal shelters.  Border Patrol can only hold an unaccompanied child for 72 hours before the child has to be shipped to some sort of federally run shelter.
There are 57 days remaining in the regular session.  The House convened at 10 AM today, and among other bills, will take up HB 5, which has the goal of expanding more reliable and updated broadband service to rural areas of the state.  The Senate will convene at 11AM today.