Case Counts/Testing in Texas – Wednesday, February 24th (3:55 PM data)
Total Tests Performed – 22,662,805
Confirmed Cases – 2,264,763 (4,991 new cases)
Active Cases – 185,190
Hospitalizations – 6,738 (10,337 available beds, 741 available ICU beds)
Fatalities – 41,980 (339 new deaths)
Recovered Cases – 2,368,008
Vaccine Data – Thursday, February 25th  (12:59 PM data)
Doses Shipped by state – 6,319,195
People with one dose received – 3,265,195
People fully vaccinated – 1,599,222
Total doses administered – 4,864,976
Inside the Numbers
Positivity rate as of Tuesday, February 23rd was 13.54%.  One month ago, there were 21,800 new cases reported, one week ago there were 2,600 new cases reported, compared to the 4,991 reported yesterday.   The 6,738 COVID patients in hospitals now are 871 fewer than one week ago, and COVID patients make up 10% of total hospital beds in the state.
Over the last week, an average of 38,033 doses have been administered each day in the state.   As of February 24th, 5.1% of Texans have been fully vaccinated.
5 ERCOT Board Members Resign
In the aftermath of the catastrophic power outages across Texas, five members of the Electric Reliability Council of Texas' board of directors have resigned.  ERCOT has attracted much blame for the way it handled the major power outages during the treacherous winter weather that claimed at least 80 lives. Criticism only intensified after it was revealed that none of the 5 members resigning actually live in Texas.   The ERCOT board held an emergency meeting Wednesday morning to consent to the resignations. During the meeting, ERCOT also took the opportunity to explain its decisions. Energy experts said this failure goes deeper than ERCOT, and that multiple things need to be fixed in order to prevent this from happening again.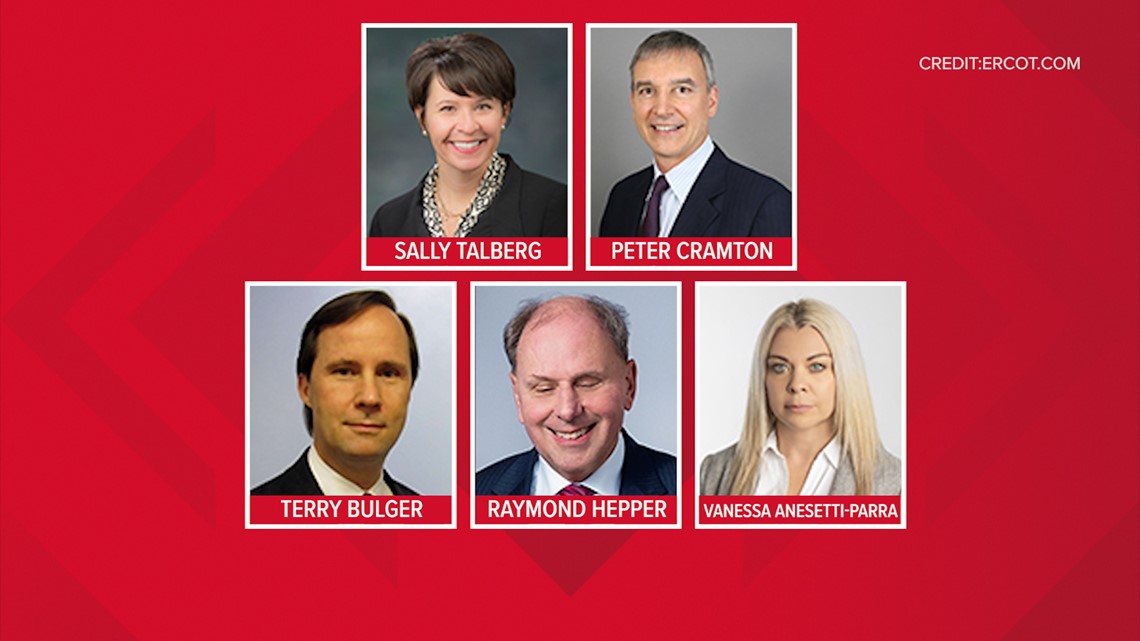 The 5 members stepping down are Chairwoman Sally Talberg, Vice Chairman Peter Cramton, board member Vanessa Anesetti-Parra, Committee Chairman Terry Bulger and Committee Chairman Raymond Hepper. The latter two are considered unaffiliated directors.
Legislative Hearings on Power Outages
State lawmakers will convene today for a series of hearings aimed at examining the power outages that occurred last week leaving millions in the cold amid the record breaking winter storm.  Both the House and Senate will conduct separate hearings, both with the goal of trying to determine the reasoning behind the failure to deliver power to the state during the disaster, and ensuring this does not happen again.  Both hearings will have invited testimony from representatives from ERCOT, the Public Utility Commission, and relevant electric generators and providers in the state.  The committees will not accept in person public comments, but have arranged for anyone wanting to register a comment to be able to do so through written submission through the House and Senate websites.
Abbott on Storm Recovery 
In an unusual statewide address Wednesday evening, Gov. Abbott promised reform for Texans after last week's winter storm cut millions of citizens' access to power and water.   "Many of you are angry, and you have a right to be. I'm angry, too," he said. "At a time when essential services were needed the most, the system broke. You deserve answers. You will get those answers."  Abbott has called for an overhaul of the entity that operates Texas' power grid and said Wednesday that the Texas Legislature must "mandate and fund the winterization and stabilization" of the state's power infrastructure.   Vowing to follow through on the commitment to address this issue while the legislature is in session, Abbott last night said, "I assure you of this: This legislative session will not end until we fix these problems, and we will ensure that the tragic events of the past week are never repeated."
Biden to Visit Houston on Friday
As Texas continues working towards recovery after the calamitous winter storm of last week, President Biden and the First Lady will travel to Houston on Friday to show their support.  This will be the Biden's first visit to a state after a major natural disaster since becoming President only 2 months ago. Onlookers see this moment as crucial leadership test for the President.
According to a statement released by the President's press secretary, the President will meet with local leaders to discuss the winter storm, relief efforts, and progress being made toward recovery.  The President will also visit a COVID distribution site and be provided with an update on distribution of the vaccines in Texas
Texas Resumes COVID-19 Vaccinations
After more than a week of severe winter weather that halted operations at testing and vaccination sites, as well as limited staffing for data entry and case investigations, the state has resumed full COVID-19 operations regarding vaccinations.  The entire state was impacted by last week's weather events, including medical and volunteer staff.
Nationwide, nearly 6 million doses were unable to reach their destination due to the storm delaying shipments.  Among that, 450,000 were earmarked for Texas.  This week however, the state is on schedule to receive 1.5 million doses, which includes last week's undelivered doses. About 90% of those doses had already arrived by Tuesday and are already being distributed to vaccination hubs throughout the state.
End to Mask Orders and Statewide Restrictions??
While traveling in Corpus Christi earlier today, Gov. Abbott was asked directly about when he plans to lift the restrictions in place due to COVID, including the statewide mask mandate.  With the numbers of infections and hospitalizations decreasing significantly over the last few weeks, coupled with the number of people receiving the vaccine, many Texans are curious as to when the restrictions on daily activities will be lifted.  Abbott said that he, along with his staff and medical personnel are evaluating the situation and that an announcement on this issues will be forthcoming soon.  However, he did not give a time frame regarding an announcement or whether or not the restrictions would be wholly or partially lifted.
Texans have been under a mask mandate and other orders that have placed restrictions on businesses since last April.  5.1% of Texans have been fully vaccinated, but the pace of vaccinations had been increasing prior to last week's storm, and state officials have vowed to continue the increase this week and moving forward.  Abbott has received a great deal of scrutiny from his own party due to the restrictions and the fact that the legislature had no input in the decisions to severely hamper the state's economy.  There are numerous proposals before the legislature now to curb a Governor's authority during times of public emergency and disaster, and Abbott has said he is open to reforming the executive authority process in Texas.
There are 94 days remaining in the regular session.  The House is adjourned until 2:00PM on Tuesday, March 2nd , and the Senate is adjourned until 3:00PM on Tuesday, March 2nd .