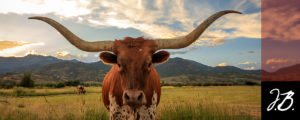 Here's a quick recap of what happened over the last 2 weeks: (Lots of news over the last two weeks)
New Laws Going Into Effect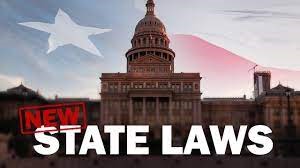 September 1st, 774 new laws will go into effect that were passed by the Texas legislature during the regular session and the subsequent special sessions this summer.  Regarding public education, laws were passed to ban certain materials from school libraries that are deemed to be sexually explicit or without social value for minors.  Vendors will also be required to assign ratings to books based on any reference to sexual materials.  School districts now must have at least one armed guard at every school campus in the district.  This was done as part of an overhaul of school safety standards.  Schools also must place a silent panic button in each classroom and train staff to identify at risk students in need of mental health support.
In higher education, all types of programs and funding for diversity, equity, or inclusion are eliminated and prohibited on college campuses.  Institutions also must now develop rules and procedures regarding the awarding of faculty tenure and now require tenured professors to undergo periodic review of their performance.
The LGBTQ community is also affected by new laws.  Transgender youth are now prohibited from accessing any type of transitioning care such as puberty blockers or hormone therapy.  Sexually explicit performances such as "drag" shows are now subject to stricter regulations on public property or in the potential presence of minors.  And transgender college athletes are now prohibited from competing on teams that do not align with their assigned sex at birth.
The Fentanyl epidemic was addressed in two major ways.  First, prosecutors are now allowed to charge a defendant with murder for the distribution of fentanyl laced drugs if it leads to the death of the victim.  And, public colleges and universities will now be allowed to distribute Narcan, which is a treatment for fentanyl and opioid overdoses.
Other laws of interest include a $200 registration fee for owners of electric vehicles to replace the revenue not paid in gas taxes; authority of the Department of Transportation to adjust speed limits in inclement weather without approval from the Transportation Commission; prohibition of the operation of drones near airports or military installations; exemption of feminine hygiene products and diapers from the state sales tax; and a new requirement for elections officials to inform voters if there are errors in their mail in ballot applications along with instructions on how to cure the error.
For a full list of all new Texas laws taking effect September 1st, follow this link:
https://capitol.texas.gov/reports/Report.aspx?LegSess=88R&ID=effectivesept1
Houston to Host 2028 Republican National Convention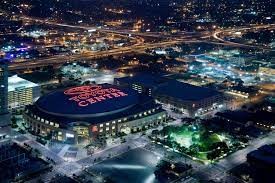 Houston will host the 2028 Republican National Convention, beating out Miami and Nashville to hold the once every four-year event where the party will officially nominate their choice for President.  The week-long event is expected to draw 50,000 visitors to the city and generate $200 million for the local economy.  In the announcement, Republican National Committee Chair Ronna McDaniel said Houston was chosen in part due to its large and growing Hispanic population and the recent progress the party has made with Hispanic voters in the state, particularly in south Texas.  She also thanked Houston mayor Sylvester Turner for his efforts to bring the event to the city.  No final decision has been made on specific dates for the convention, but it is likely to be sometime in August of 2028.  General sessions for the convention will be held at the Toyota Center, with Minute Maid Park and the George R. Brown Convention Center also slated to host meetings and sessions during the convention.  Houston last held a national convention in 1992, when then President George H.W. Bush was nominated by his party for a second term at the Astrodome.
Special House Committee on Education Releases Report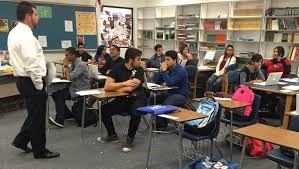 At the conclusion of the regular session earlier this year, House Speaker Dade Phelan appointed a special committee to study public education issues related to school funding and student outcome and accountability measures.  In anticipation of the upcoming special session on related issues, the committee has released its report of 30 recommendations including to increase the state's share of school funding, increased teacher pay, and revising accountability standards.  The most controversial subject that is expected to be considered in the fall special session is school choice, also known as a voucher program.  A voucher program would allow parents to access state dollars to fund their child's education at a private school.
The committee did not fully endorse a voucher program, but it did address the subject by saying if such a program is approved, then it should be much smaller in scale than the one proposed during this year's regular session.  In the regular session, the Senate approved a plan that established a state-controlled fund accessible to parents choosing to send their children to private schools.  The House did not ever fully consider the proposal.  The House did however go on record opposing any type of voucher program through a vote on an amendment to the Appropriations bill that prohibited the use of state funds for a voucher program.
The House recommendations included requiring clear standards for student eligibility and even suggested that a voucher programs should be initially set up by the private sector, not using state funds.  This debate promises to be emotional and contentious, as most Democrats and Republicans from rural areas have consistently voiced stringent opposition to any type of voucher program.  Teachers and superintendents have also traveled to Austin to voice opposition to the program.  Gov. Abbott and Lt. Governor Dan Patrick have been supporters of the voucher program.  No date has been set for the upcoming special session, but indications are it will start after the completion of the Paxton impeachment trial in late September or early October.
Record Heat, Conservation Urged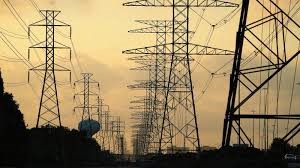 ERCOT, the state's power grid operator, asked Texans to conserve energy on four straight days last week.  From Thursday to Sunday, it was feared that electricity demand would surpass supply causing emergency operations to go into effect.  It was also the 6th time in 11 days Texans were asked to conserve.  Sunday was the hottest day of the streak, with Houston tying its hottest day ever recorded at 109 degrees. Austin came in a 107 and Dallas hit 101 on Sunday.
Temperatures Monday were cooler, but by Tuesday ERCOT had again asked for conservation measures between 5PM and 9PM.  Expected low wind conditions on Tuesday that could cause lower operating reserves is what led to the call for conservation.  And then again yesterday, ERCOT once again called for conservation from 6PM to 9PM.  That marks the 8th time in the last two weeks that conservation measures were called for.  On Wednesday, ERCOT said the reason for the call for conservation was once again expected low wind conditions along with a number of natural gas plants that have had to shut down recently due to the continued wear and tear on their output from the unrelenting heatwave.
Emergency operations include rolling blackouts and urgent calls for alternative energy sources.  ERCOT credits Texans with employing the temporary conservation measures with the state being able to avoid having to institute emergency measures.  Conservation measures – turning up your thermostat by 2 degrees, avoidance of using major appliances, and turning off unnecessary products – can reduce demand by enough megawatts to meet supply demands.  In addition to conservation measures, ERCOT officials credit some timely rainfall in parts of the state that brought down temperatures significantly.
If you are interested in monitoring grid conditions, go to the ERCOT website:  https://www.ercot.com
Border News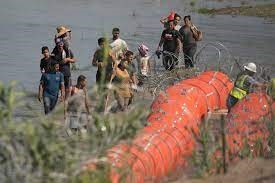 Final arguments were made in federal court last Friday regarding the placement by the state of the barrier buoys in the Rio Grande River near Eagle Pass.  The federal government has argued that the state is violating the federal statute that prohibits states from placing anything in "navigable" waters without permission from the government, and therefore must remove the buoys.  The state argues that since the river is so shallow at the point the buoys have been placed, the river is not navigable.  Both sides presented series of arguments regarding the navigability of the segment of the river.  The case is in the hands of senior Judge David Ezra, who was initially appointed by President Reagan in 1987.  He is now designated by the US Supreme Court to serve as a district judge in the Western District of Texas to ease the workload of federal judges in Texas.  He has not given a timeframe for his decision on whether the state has to remove the buoys.
Four Republican governors joined Gov. Abbott last week for a tour of the southern border.  The group took a helicopter tour of the area near Eagle Pass and then held a press conference to criticize the Biden administration and their border enforcement policies.  Governors from Oklahoma, South Dakota, Iowa, and Nebraska joined Abbott at the day's events.  No Republican Presidential candidates – including former President Trump and Florida Gov. Ron DeSantis – were present for the tour.  Ironically, the area featured by Abbott has seen three consecutive months of declining encounters of migrants.  Last month, Customs and Border Patrol reported just over 24,000 encounters, compared to the roughly 50,000 encounters reported each month in the last 6 months of 2022.
The Texas House Committee on Homeland Security and Public Safety will meet in Eagle Pass tomorrow regarding the state's Operation Lone Star. They will tour areas near Eagle Pass and then meet to receive invited testimony from the Governor's office, the Texas Department of Public Safety, the US Division of Emergency Management and the US Customs and Border Protection.
Latest on Paxton Impeachment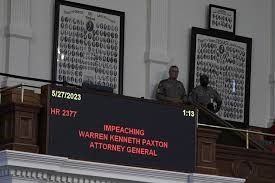 Last Friday, several reports began to surface on Twitter and in the Austin Capitol community that Paxton was considering resigning before the start of the trial next week.  These were only rumors, nothing was substantiated.  After a great deal of back and forth by the pundits over the weekend, Paxton finally issued a statement on Twitter that he had no intention of resigning.  A member of his legal team issued a similar statement denying the intention to resign.  These stories and rumors began after the House impeachment managers released a list of witnesses they plan to call during the trial, including Paxton.  Paxton must take the stand if called, but he can refuse to answer any questions by exercising his right against self-incrimination.  House impeachment managers said they would proceed with the trial regardless of Paxton's status.
The basis of the defense that Paxton's legal team is using for the upcoming impeachment trail focuses on the House managers not having enough evidence to substantiate the allegations used to impeach the now suspended Attorney General and send the 20 articles to the Senate for trial.  In response, the House managers and their legal team have released nearly 4,000 pages of documents that lay out their case.  The documents point to Paxton's constant abuse of power and back up their claim he should be removed from office with a series of text messages, emails, and witness interviews that attempt to prove Paxton ignored his state duties and abused the power of his office so he could help Austin real estate developer Nate Paul with his own civil and criminal legal troubles.  There are documented conversations that show Paxton's own staff pleaded with him to sever ties with Paul due to the unprecedented and very unusual access that Paul had to Paxton and the agency.
Many of the allegations have been well documented before, but the newest filings from the House managers go into great detail about how Paxton provided Paul with legal assistance for his federal investigation into financial improprieties in exchange for Paul hiring Paxton's mistress and paying for a remodel of one of Paxton's homes in Austin.  Disturbing details are given as to how the pair went to extreme measures to hide their relationship and Paxton's relationship with his mistress such as setting up fake uber accounts and using burner cell phones.  The mistress has been identified as a young staffer who worked for a member of the state Senate, where Paxton's wife also serves.
The documents are detailed and are available in their original, full text as submitted to the Texas Senate for the trial.  If you would like to review the documents, they can be found on the Senate website:  https://senate.texas.gov/coi.php
In other news related to the trial, Lt. Governor Dan Patrick asked former state appeals court judge Marc Brown to serve as a special advisor in the trial.  Impeachment rules allow Patrick to hire outside counsel to serve in an advisory capacity during the trial.  However, after some news outlets reported that Brown had given a contribution to one of Paxton's 2022 Republican primary opponents, Brown rejected the offer.  Brown gave former Supreme Court Justice Eva Guzman $250 during her campaign to unseat Paxton in the Republican primary in 2022.  Guzman eventually finished 3rd in the race.
After the dust settled on this, Patrick this week appointed retired judge Lana Meyers to provide legal counsel during the trial.  Meyers served on the Texas Fifth Court of Appeals from 2009-2022.  She also served as a district court judge in Dallas County prior to her election to the court of appeals.
The Lt. Governor also announced last week that tickets would be issued to any member of the general public that would like to witness the trial in person.  Tickets will be distributed on the third floor of the Capitol, outside the Senate gallery on a first come, first served basis starting at 7:30 every morning the trial is scheduled to take place.
In a mix of impeachment and political news, Paxton defense attorney Tony Buzbee has filed to run for Houston City Council.  Buzbee will challenge incumbent Mary Nan Huffman for the District G seat.  The district runs west from the Memorial area out to Highway 6 in far west Houston.  Buzbee ran for mayor of Houston in 2019, forcing incumbent Sylvester Turner in a runoff that Turner won by a 56% to 44% margin.
Political Notes
Last year's Miss Texas has filed to run for House District 112 as a Democrat against Republican incumbent Rep. Angie Chen Button of Garland.  Averie Bishop became the first Asian American winner of the Miss Texas pageant last year, and at 26 years old would be one of the youngest members of the House if elected.  Bishop has over 800,000 social media followers and has been very vocal about her support for greater access to abortion, enhanced sex education at the state's public schools, and stronger gun safety laws.  Button, an accountant by trade, was first elected to the House in 2008 and currently serves as Chair of the International Relations and Economic Development Committee.  HD 112 is based in Garland and is considered to be competitive for a Democrat to flip the seat.  Button won reelection in 2022 by a 9-point margin.
Since this House district is considered a battleground seat, House Republicans are uniting to support Rep. Button.  House Speaker Dade Phelan will headline her October 6th fundraiser in Dallas, held during the annual Texas/OU festivities.  In addition, 30 Republican House members have signed on to the host list in an offer of support to Rep. Button.
Back and forth in the race for House District 14.  The announcement last week by longtime state Rep. John Raney of College Station he would not seek reelection immediately led former Rep. Fred Brown to announce he would like his old job back. But, when local restaurant owner Larry Hodges announced he was seeking the seat – and rolled out a long list of prominent endorsements — Brown announced he was dropping out and was endorsing Hodges.  But now, Hodges has said he will be dropping out of the race for personal reasons.  So, Fred Brown is now reconsidering a run, but has not made a formal announcement.  As of now, the only candidate is former Brazos County Sheriff Chris Kirk in the Republican primary.  Stay tuned, as there will probably be more back and forth in this race.
More retirement announcements.  In Tyler Republican Matt Schaefer announced he will not seek reelection to his currently held House seat in 2024.  He has also endorsed Daniel Alders, owner of a property management company in Tyler and former staff member of US Senator Ted Cruz.  State Senator Bryan Hughes of Mineola, who also represents the Tyler area, has endorsed Alders as well.  Schaefer went on to say that he is not done with public office.  In his announcement, he said that if Senator Hughes ever decides to run for another office, Schaefer would consider running for the state Senate.
Rep. Ed Thompson, Republican of Pearland, also announced this week he will not seek reelection.  Thompson is in his sixth term and serves on the Natural Resources and Appropriations Committees.  The district, which contains the cities of Pearland, Alvin, and Manvel in Brazoria County near Houston, should remain in Republican hands.  Thompson was last challenged in 2020, when he beat his Democratic opponent by 13 points.
There are now 8 members of the Texas House that have announced they are not seeking reelection in 2024.
Four candidates have emerged to replace Rep. Four Price, the Republican from Amarillo who announced he also will not seek reelection in 2024. The candidates include former Randall County Commissioner Craig Gualtiere, Amarillo's one-time assistant city manager Carter Estes, Potter County Republican chairman Dan Rogers, and Vance Snider, a former congressional candidate and Trump campaign staffer.
Freshman Rep. Stan Gerdes, Republican from Smithville, will face Tom Glass in a rematch from the Republican primary in 2022.  Glass is a retired information tech with ExxonMobil who has decided to challenge Gerdes based on his vote to impeach AG Ken Paxton.  Glass was one of 5 candidates in the Republican primary in 2022 receiving 30% of the vote, failing to make the runoff.  The district consists of several rural counties south of Austin, including Bastrop.
Kleberg County (home of Kingsville and the King Ranch) Attorney Kira Sanchez is switching to the Republican Party.  She said that due to the crisis at the border, her philosophy more closely aligns with the Republican party regarding border enforcement and public safety.  Sanchez ran unopposed in 2020 as a Democrat and will run for reelection as a Republican in the 2024 election.
And finally, in the race for mayor of Houston, former gubernatorial candidate Beto O'Rourke has endorsed Congresswoman Sheila Jackson Lee.  According to recent polling, Lee and state Senator John Whitmire are the two front runners in the race to lead the country's fourth largest city.
What's Next??
The impeachment trial starts on Tuesday, and that will dominate the news from the Capitol.  The trial is expected to last 2-3 weeks.
Have a great and safe Labor Day Weekend!!